Guantanamo detainees on US soil: a legal minefield
President Obama wants to house some Guantanamo detainees in an Illinois prison. But bringing the detainess to the US will likely broaden their legal rights. 'How much?' is the unanswered question.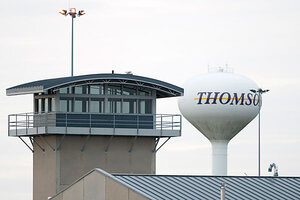 Stephanie Makosky/Reuters/File
President Obama's decision to transfer as many as 100 terror suspects from Guantánamo Bay, Cuba, to a maximum security prison in rural Illinois potentially sets the stage for a new round of high-stakes legal battles over what additional rights, if any, Al Qaeda suspects are entitled to.
Under their current terms of confinement at Guantánamo, detainees have a constitutional right to challenge the legality of their detention in federal court. But that's it.
In contrast, from the moment the detainees set foot on US soil, their lawyers will have the ability to tap into the full array of constitutional and other legal protections enjoyed by every American citizen and resident.
How broad might those protections be?
"It is an unanswered question. We've never done this before," says Scott Silliman, a professor at Duke University Law School and director of the Center for Law, Ethics, and National Security.
"They are probably going to end up with more rights than they have at Guantánamo Bay, but how much more, we don't know," he says.
They're not in Cuba anymore
Congress passed a series of laws aimed at stripping Guantánamo detainees of potential legal rights, including the right to challenge the conditions of their confinement at the prison camp and to claim fundamental protections of due process.
---