Behind Supreme Court case: Do gun rights protect against tyranny?
The US Supreme Court is considering what could be a landmark decision on individual gun rights. An unspoken argument is that armed citizens would make any usurper think twice before subverting the Constitution.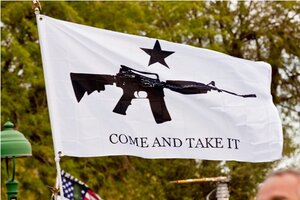 Newsom
More than 10,000 words were spoken during this week's historic oral argument over gun rights at the US Supreme Court. But one potentially significant word was never uttered during the hour-long session: tyranny.
Long a focus of debates between gun control advocates and gun rights supporters, the issue was not discussed by lawyers attacking Chicago's ban on handguns or the lawyer for the city defending local gun regulations. No member of the court mentioned it either. (Monitor analysis of the Chicago case here.)
But the idea is there, just below the surface of what analysts expect to become the high court's second gun rights landmark decision in as many years.
IN PICTURES: The debate over gun rights
The basic contention of many gun rights advocates is that the Second Amendment was designed to preserve a large, well-armed, and highly proficient community of gun owners that would make any usurping politician or military commander think twice before attempting to subvert the nation's constitutional framework.
Founders' intent with Second Amendment
"The Second Amendment … stands as the Founding Fathers' clear and unmistakable legal statement that an armed citizenry is the bulwark of liberty and provides the fundamental basis for law-abiding Americans to defend themselves, their families, their communities, and their nation against all aggressors, including, ultimately, a tyrannical government," wrote Daniel Schmutter in a friend of the court brief on behalf Jews for the Preservation of Firearms Ownership.
---