Who is David Brian Stone, leader of the Hutaree militia?
A picture of Hutaree militia leader David Brian Stone is slowly emerging. His interest in guns and religion gradually spiraled out of control, reports suggest, leading to his arrest on charges of conspiring to kill police officers and oppose the US government by force.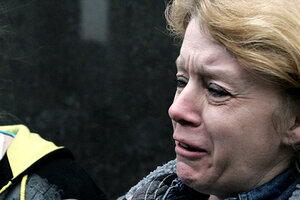 Jerry S. Mendoza/AP
Members called him "Captain Hutaree" or, somewhat cryptically, "RD." A federal indictment calls him the "principal leader" of the Hutaree militia – an extremist group federal authorities say was preparing to "levy war" against the US government by killing police officers.
He is David Brian Stone, and early media accounts sketch a portrait of a man pulled increasing toward the militia movement and its radical fringe. His ex-wife said she left him because he "got carried away." Federal authorities allege that he researched how to build roadside bombs on the Internet. And at least one neighbor said the group that Mr. Stone leads had acquired a certain notoriety around town.
"You don't mess with them," she told the Detroit News.
Hutaree militia arrests: Why the number of militias has tripled since 2008
Monday morning, federal authorities released an indictment against Stone and eight other members of the Hutaree militia. They allege that Stone and his followers were planning an attack sometime in April, perhaps killing an police officer then targeting the funeral with improvised explosive devices (IEDs) to raise the death toll. The group saw the police as the arm of a US government, which they felt was the enemy. [Editor's note: IEDs were described incorrectly in the original version of this paragraph.]
'Handguns to big guns'
---
Follow Stories Like This
Get the Monitor stories you care about delivered to your inbox.