Minn. man sentenced to 50 years for $3.7 billion Ponzi scheme
Thomas Petters was convicted of mail fraud, wire fraud, and money laundering for creating the illusion of a company selling to big-box retailers. The 16-year Ponzi scheme netted $3.7 billion.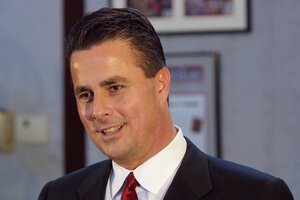 Jerry Holt/The Star Tribune/AP/File
A federal judge on Thursday sentenced a Minnesota man to 50 years in prison for carrying out a 16-year Ponzi scheme that netted an estimated $3.7 billion.
Thomas Joseph Petters of Wayzata, Minn., was convicted of multiple counts of mail fraud, wire fraud, and money laundering after a month-long trial in December.
US District Judge Richard Kyle said during the sentencing hearing that he wasn't satisfied that if Mr. Petters was released from prison, he wouldn't return to a life of fraud.
Petters' testimony 'didn't pass the smell test'
The judge said Petters' testimony during the trial was not worthy of belief. "It just didn't pass the smell test," the judge said.
Petters and a close circle of associates created the illusion of a successful company selling bulk electronic goods to big-box retailers like Costco and Sam's Club. Federal authorities say it was all a façade. The group printed up false invoices and bank records showing Petters' company was owed billions of dollars from retailers.
To induce investors to contribute new capital, Petters signed promissory notes and provided his own personal guarantee for the funds received.
Many investors received payments, but not from profits. They were paid from funds received by new investors, prosecutors say.
---