Gay marriage Prop. 8 trial enters last phase before ruling
Closing arguments in the Prop. 8 gay marriage trial begin Wednesday. Judge Vaughn Walker must decide whether to hold sexual orientation, like race, to the 'strict scrutiny' standard.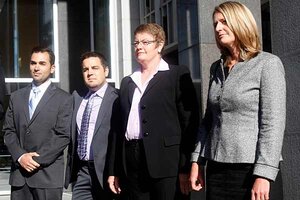 Jeff Chiu/AP
Chief US District Judge Vaughn Walker has scheduled a full day of arguments Wednesday, the final step before he rules on a lawsuit arguing that California's Prop. 8 violates the constitutional rights of gay and lesbian couples. The first federal court test in the nation of a state law forbidding same-sex nuptials, it is widely expected to push the gay marriage issue to the US Supreme Court.
In January, Judge Walker conducted an unprecedented three-week trial featuring a number of experts and other witnesses who testified on the impact of the law, which California voters backed in 2008, restricting the definition of marriage to between a man and a woman.
Analysts say the stakes are high.
"What's at stake here is much more than whether lesbians and gays can once again marry in California," says Geoff Kors, executive director of Equality California. "This is really the first time the federal courts are looking at whether a majority of voters can take away the rights of one specific minority while keeping them for themselves. It should be of interest to anyone who can be impacted by discrimination. If this is allowed to stand, there is nothing stopping voters from taking rights away from other minorities."
But legal observers shy away from predicting an outcome because there are legal precedents on both sides.
---