With Jeffrey Skilling, Conrad Black cases, fraud tougher to prove
Supreme Court ruled Thursday that its ruling boosting former Enron CEO Jeffrey Skilling also applies to the conviction of newspaper magnate Conrad Black. Prosecutors will need to directly tie certain fraud cases to bribery or kickback schemes.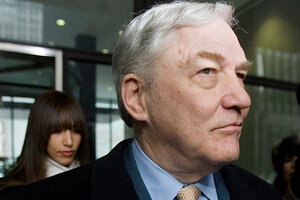 Tom Hanson/The Canadian Press/AP/File
The US Supreme Court on Thursday reversed a portion of newspaper magnate Conrad Black's 2007 federal fraud conviction, ruling that the jury was not properly instructed prior to their deliberations.
The high court decided the case, Black v. US, by applying its ruling in the case of former Enron CEO Jeffrey Skilling, also announced on Thursday,
Under the Skilling decision, to convict a defendant for violating the honest services fraud statute jurors must find that an employee's fraud against his employer involved a bribery or kickback scheme.
The decision narrows the scope of the honest services fraud statute, forcing prosecutors to tie their cases to bribes or kickbacks. It will no longer be enough to argue that the defendant did not tell the whole truth or otherwise acted deceptively.
Prosecutors across the country have been anxiously awaiting the court's decisions in a trio of honest services fraud cases handed down today. The action will trigger legal challenges in pending corruption or white-collar fraud prosecutions, with many cases likely to be overturned, according to MaryJeanette Dee, a lawyer with Richards Kibbe & Orbe in New York.
---
Follow Stories Like This
Get the Monitor stories you care about delivered to your inbox.