Russian spy case 'right out of a John le Carré novel'
The FBI arrested 11 people last week in a Russian spy case, according to court documents unsealed Monday. The alleged spies were on 'long-term deep-cover assignments,' the documents say.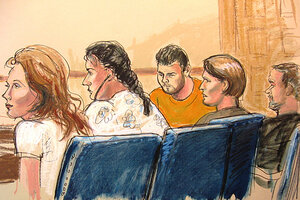 Elizabeth Williams/AP
At just about the same time President Obama and Russian President Dmitry Medvedev were chowing down at Ray's Hell Burger in Washington Thursday, FBI agents were closing in a Russian spy ring.
With one of the alleged spies about ready to leave the country Sunday, the FBI closed in, arresting 10 people – some of who had been in the US sending intelligence back to Moscow for a long time, according to court papers unsealed Monday.
The court papers offer details on their lives and activities: Many of those arrested were couples sent to the US with fake identification, using American names like Murphy and Heathfield and Foley. Some names were picked from deceased individuals. And some raised families to an attempt to blend in.
In addition, the spy ring told handlers back in Moscow that they had gotten information from a former US legislative counsel to Congress on turnover at the head of the CIA, made contact with an individual who works for a US research facility that works on small yield, high penetration nuclear warheads, and planned to start to build a network of students in Washington. [Editor's note: The original version of this paragraph misstated the agency where high-level turnover is said to have occurred.]
---
Follow Stories Like This
Get the Monitor stories you care about delivered to your inbox.