Judge: Prop. 8 backers might not have legal standing to appeal
The legal proponents of Prop. 8 vow to appeal a federal judge's Thursday ruling to allow gay marriage in California, perhaps as early as next week. But the judge raised questions about their legal standing.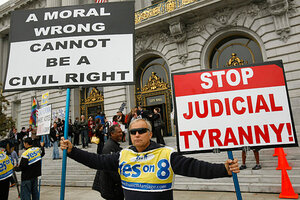 Robert Galbraith/Reuters
Lawyers for the proponents of California's same-sex marriage ban vowed Thursday to appeal a federal judge's ruling that gay marriages could resume in the state Aug. 18.
"This case has just begun," said Jim Campbell, a lawyer with the Alliance Defense Fund. He said the legal team was "confident that the right of Americans to protect marriage in their state constitutions will ultimately be upheld."
Gay rights advocates hailed the ruling and said they were hopeful the ban would be lifted within a week. "[This] ruling affirms that the purpose of our judicial system is to protect our constitutional rights, not to take away those rights," said Rick Jacobs, chairman of the Courage Campaign.
US District Judge Vaughn Walker ruled Aug. 4 that the voter initiative, Proposition 8, violated the equal protection and due process rights of gay and lesbian couples who want to get married. He ordered state officials to stop complying with the ban on gay marriage.
---