Why California gay marriage ruling may not head to US Supreme Court
US District Judge Vaughn Walker, who invalidated Proposition 8, doubts the proponents of California's gay marriage ban have any standing to appeal his ruling.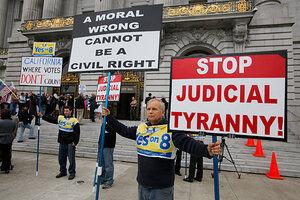 Eric Risberg/AP
Do proponents of Proposition 8, California's gay-marriage ban, have any legal standing to appeal last week's federal court ruling declaring it unconstitutional?
US District Judge Vaughn Walker doubts it.
When Judge Walker decided Thursday to lift a temporary stay on his Aug. 4 decision that invalidated Proposition 8, he suggested that the legal advocates of the voter-approved gay-marriage ban did not meet the legal standards to appeal their case to the Ninth Circuit Court of Appeals.
Walker said they needed the state government's support, which they don't have, and to demonstrate that legalizing gay marriage will lead to immediate harm even though 18,000 same-sex couples are already legally married in California.
"As it appears at least doubtful that proponents will be able to proceed with their appeal without a state defendant, it remains unclear whether the court of appeals will be able to reach the merits of proponents' appeal," Walker wrote in his ruling Thursday that lifted the stay on his earlier decision.
Nonetheless, Proposition 8 supporters have already appealed both of Walker's rulings – his decision on the constitutionality of the gay-marriage ban and the more recent ruling lifting the stay and clearing the way for same-sex marriages to resume in California on Aug. 18.
But if the appeals court agrees with Walker's analysis of the legal standing of Proposition 8 proponents, this landmark case over a state gay-marriage ban, the first decided in a federal court, could end with his courtroom and dash hopes on both sides of the issue for having the US Supreme Court issue a definitive ruling on gay marriage.
---