Chemical weapon attack or domestic dispute? Supreme Court will decide.
A Colorado woman was prosecuted under federal chemical weapons law when she planted toxic chemicals at the home of her husband's paramour.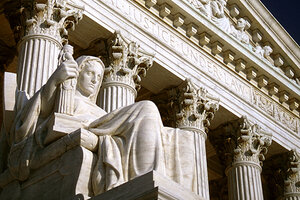 Newscom
The US Supreme Court on Tuesday agreed to examine a case testing whether federal prosecutors overstepped their authority when they used a chemical weapons law to prosecute a Pennsylvania woman who tried to poison her husband's mistress.
At issue in the case, Bond v. US, is whether a person charged under the chemical weapons statute has legal standing to challenge the applicability of that law to their case.
Carol Anne Bond and her lawyers argue that federal prosecutors should have turned the domestic dispute over to local law enforcement authorities who usually handle such matters. They complain that US prosecutors are federalizing sections of the law that are the domain of state and local jurisdictions.
Ms. Bond was a 40-year-old microbiologist who lived with her husband and adopted child in Lansdale, Pa. In 2006, Bond learned that her best friend was expecting a child. She was happy for her friend, in part because Bond was unable to bear children. Then she learned the truth: that the father of her friend's child was her husband.
Bond decided to take revenge. She obtained toxic chemicals and 24 times spread them on various surfaces on or near her friend's home, hoping she would be poisoned. The chemicals were applied to door handles and a mailbox, among other surfaces.
The friend noticed the chemicals and avoided touching them. She once burned her thumb, but otherwise suffered no injury.
---