Supreme Court takes global warming case that targets power companies
A global warming lawsuit aiming to force power companies to curtail carbon emissions will come before the Supreme Court next year. The suit asks for a judicial order to that effect, but would such a move usurp role of other government branches?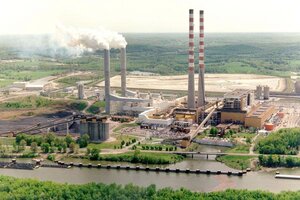 Ron Schmitt/AP Photo/TVA
The US Supreme Court on Monday agreed to examine a major environmental lawsuit that seeks to force six electric power companies to cap and reduce their carbon-dioxide emissions to fight global warming.
The lawsuit – filed in 2004 by eight states, the City of New York, and three land trusts – targets what it claims are the largest emitters of carbon dioxide in the United States and among the largest in the world.
It seeks a judicial order declaring that the fossil-fueled power plants are a "public nuisance." It also seeks a judicial order capping the plants' greenhouse gas emissions and requiring the plants to adopt a schedule of reduced emissions in future years.
What makes the lawsuit unusual is that it is an attempt to fill a vacuum in US environmental policy on how best to regulate greenhouse gas emissions and fight global warming. The issue is a source of substantial controversy and a political hot potato, particularly at a time of high unemployment and a sluggish economy.
A federal judge dismissed the lawsuit on grounds that it raised sensitive policy questions best left to the political branches. But a federal appeals court in New York reversed that decision, allowing the lawsuit to move forward.
The power companies are now asking the US Supreme Court to reverse the appeals court and dismiss the lawsuit.
"The ramifications of this [appeals court] holding, if it is allowed to stand, are staggering," wrote Peter Keisler in a brief on behalf of the six power companies. "This litigation seeks to transfer to the judiciary standardless authority for some of the most important and sensitive economic, energy, and social policy issues presently before the country."
---