Health-care reform: Battleground shifts to Florida courtroom
The legal battle over health-care reform is destined for the Supreme Court, analysts say. On Thursday a US district judge in Florida hears arguments in a case brought by 20 states.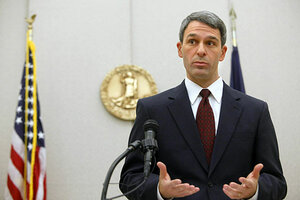 Alexa Welch Edlund/Richmond Times-Dispatch/AP
The escalating legal battle over the constitutionality of President Obama's health-care reform law moves Thursday to Florida and to a federal judge who has already expressed skepticism about the statute.
In October, US District Judge Roger Vinson dismissed four of six counts in the Florida-based lawsuit challenging the Patient Protection and Affordable Care Act. But in upholding two other counts, the judge appeared receptive to arguments questioning the constitutional validity of the health-care law.
"At this stage of the litigation, this is not even a close call," Judge Vinson wrote in his opinion. "The power that the individual mandate seeks to harness is simply without prior precedent."
RELATED: Health care reform bill 101: what the bill means to you
The judge's comment was made while declining to dismiss the lawsuit at an early stage. It does not necessarily telegraph how he might rule when considering the full merits of the issue.
On Thursday, Judge Vinson will become the fourth federal judge to formally examine the constitutionality of the health-care reform law. Two judges – in Detroit and Lynchburg, Va. – have upheld the law. On Monday, a judge in Richmond, Va., ruled a key section of the law unconstitutional.
---
Follow Stories Like This
Get the Monitor stories you care about delivered to your inbox.