Obama orders Guantánamo tribunals to resume. Is he abandoning his pledge?
Obama ends a two-year ban on military tribunals at the US prison at Guantánamo Bay, which he had vowed to close. In a bid to enhance US 'values,' he orders a new review process for detainees.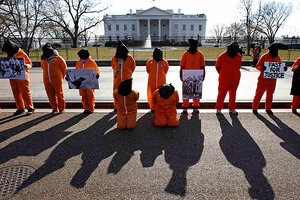 Jim Young/Reuters
In the 2008 presidential campaign Barack Obama vowed that if elected he'd shut the US prison for terror suspects at Guantánamo Bay, Cuba. But today President Obama seems as far as ever from being able to fulfill that promise.
That may be a bottom line from the administration's move on Monday to end a two-year ban and resume military-commission trials for detainees at the Guantánamo facility.
"The president does remain committed to closing the prison at Guantánamo Bay," said a senior administration official who briefed reporters on the decision.
Besides resuming the commissions, the White House Monday said it remains committed to trying some terrorist suspects in US federal courts. That is something that has met vehement bipartisan opposition in Congress.
"I strongly believe that the American system of justice is a key part of our arsenal in the war against Al Qaeda and its affiliates, and we will continue to draw on all aspects of our justice system – including Article III courts – to ensure that our security and our values are strengthened," Obama said in a statement. Article III courts are civilian tribunals, as opposed to military commissions.
---