Guantánamo detainee's sentence renews debate about civilian trials
(Read article summary)
The first civilian trial of a Guantánamo detainee prompted questions about whether civilian court is the best place for alleged terrorists.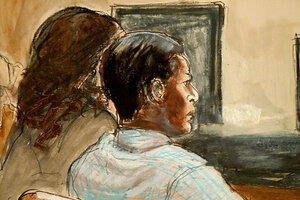 Elizabeth Williams/AP
• A daily summary of global reports on security issues.
The first former Guantánamo detainee to be brought before a US civilian court was sentenced Tuesday to life in prison for his role in the 1998 bombing of the American embassies in Tanzania and Kenya. The ruling renewed the debate over whether accused terrorists should be tried in the US civilian court system.
Ahmed Khalfan Ghailani, a 36-year-old Tanzanian man, was convicted in November of conspiring to destroy US government buildings or property, but was acquitted of 284 other charges that included murder. Prosecutors in the case argued that Mr. Ghailani played a role in purchasing both explosive material and a truck used in the embassy bombing.
The Ghailani case was seen as a test for the feasibility of future Guantánamo detainee trials in the civilian system. The Monitor reports that the case laid bare some of the costs and benefits of trying detainees stateside, including problems with using evidence and testimony that may have been collected using tactics that some may consider torture.
The case highlighted the challenges of affording full constitutional protections to terrorism suspects who were once held in secret detention overseas and subjected to harsh interrogation tactics by US intelligence officials.
---