Strauss-Kahn indicted by grand jury, is granted $1 million cash bail
Strauss-Kahn must also be monitored, hand in his passports, and post another $5 million bond. Prosecutors, who opposed the deal, said a grand jury indicted him on seven counts.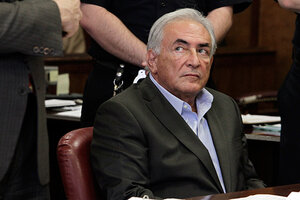 Richard Drew/AP
Dominique Strauss-Kahn, the former head of the International Monetary Fund accused of sexually assaulting a hotel housekeeper, was granted bail Thursday even as prosecutors said a grand jury voted to indict him on seven counts.
Mr. Strauss-Kahn, who had been favored in most French polls to defeat President Nicolas Sarkozy as the Socialist Party candidate in 2012 elections, has been in police custody ever since being pulled off a flight to France May 14.
On Thursday, New York State Supreme Court Judge Michael Obus gave Strauss-Kahn a get out of jail card as long as he posted a $1 million cash bail, agreed to wear an electronic monitoring device, surrendered all his passports to the government, and hired armed guards to make sure he does not violate his house arrest. He was also required to post a $5 million bond.
At the same time, prosecutors announced that a Manhattan Grand Jury voted to indict the IMF's former managing director on seven charges, including four felonies and three misdemeanors. The felonies reportedly include attempt to commit rape and criminal sexual acts and sexual abuse. Strauss-Kahn, who is maintaining his innocence, is scheduled to be arraigned on Friday, when the indictment will be unsealed.
---