Jared Loughner erupts in court before judge declares him unfit to stand trial
A federal judge declared Jared Loughner not competent after reviewing 95 pages of reports and 18 hours of interviews. Loughner is accused of shooting 19 people in a January shooting spree.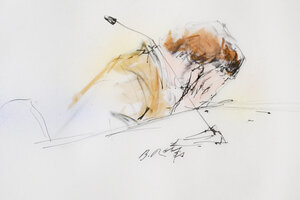 Bill Robles / AP
Less than an hour after an angry outburst prompted the removal of accused Tucson shooter Jared Loughner from a federal courtroom, a judge determined that he is not competent to stand trial.
In making his decision, US District Judge Larry Burns relied on the findings of two forensic mental-health professionals who evaluated Mr. Loughner at a federal prison complex in Missouri. Psychologist Christina Pietz and psychiatrist Matthew Carroll independently concluded that Loughner lacks a clear understanding of the legal proceedings and exhibits an irrational distrust of his attorneys – a significant impediment to assisting in his own defense.
Loughner, who briefly returned to the courtroom before being allowed to watch the proceedings on a screen out of sight, will now be committed to a mental hospital. Judge Burns ordered that he is to be tested again in four months. If, after treatment, he is then adjudged competent, the court proceedings can move forward.
Loughner has been diagnosed with schizophrenia and his mental health has steadily deteriorated in recent years, Judge Burns explained, summarizing from the written reports. Neither the prosecution nor the defense presented any additional evidence or argument.
---