Supreme Court throws out back-door bid to curb global warming
A coalition of states and conservation groups sought to use public-nuisance law to compel five energy companies to curb greenhouse gases linked to global warming. The Supreme Court unanimously dismissed the case.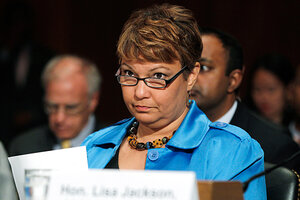 Charles Dharapak/AP
The US Supreme Court dismissed a pioneering environmental lawsuit on Monday that sought to use public-nuisance law as a way to force five major power companies to reduce their emissions of greenhouse gases in a campaign to fight global warming.
In a unanimous decision, the high court said the federal Clean Air Act and the actions of the Environmental Protection Agency (EPA) displace any common-law right to have federal judges develop and police enforcement of carbon dioxide pollution standards.
"Congress designated an expert agency, here, EPA, as best suited to serve as primary regulator of greenhouse gas emissions," Justice Ruth Bader Ginsburg wrote for the court. "The expert agency is surely better equipped to do the job than individual district judges issuing ad hoc, case-by-case injunctions."
She added: "Federal judges lack the scientific, economic, and technological resources an agency can utilize in coping with issues of this order."
The decision is setback for environmentalists who are concerned about the pace of government regulation of greenhouse gases. It marks a victory for corporations and businesses concerned about the uncertain costs of future environmental regulations.
"Today's decision ensures that the public and private utilities named as defendants in this case, as well as other companies that provide vital services to the public, can continue to operate without the threat of federal 'climate change tort litigation,' and the substantial costs and risks to productivity these claims present," said Peter Keisler, who argued the case at the Supreme Court on behalf of the power companies.
---