Victory for stem-cell research: Court backs Obama's guidelines
Federal funds can support research using human embryonic stem cells, ruled a D.C. district court Wednesday. Two scientists had sued President Obama and the NIH in efforts to overturn their regulations.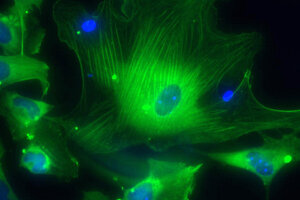 Alexey Terskikh / California Institute for Regenerative Medicine / Reuters
A federal judge on Wednesday upheld the Obama administration's position in a long-running battle over the scope of federal funding for human embryonic stem-cell research.
Chief US District Judge Royce Lamberth ruled against two scientists who had challenged the legality of new research guidelines issued by the National Institutes of Health in 2009.
The new NIH guidelines invalidated restrictions imposed by former President George W. Bush and significantly expanded federal funding options for a wider range of stem-cell research projects, as favored by President Obama.
Stephanie Cutter, an assistant to Mr. Obama, called the judge's ruling "another step in the right direction."
"We know that stem-cell research offers hope to millions of Americans across the country," Ms. Cutter wrote on a White House blog.
"We are elated at Judge Lamberth's ruling," said Lisa Hughes, president of the Coalition for the Advancement of Medical Research.
"This ensures the science will continue to move forward without the impediment of ideologically based challenges," she said in a statement.
Lawyers for the two scientists said they are weighing their options for an appeal.
---