Will Casey Anthony be forced back to Florida? Case is a 'mess,' judge says.
Judge Perry hears arguments about whether Casey Anthony, out of jail after her acquittal, has to return to Florida to serve a year of probation from a check-fraud case.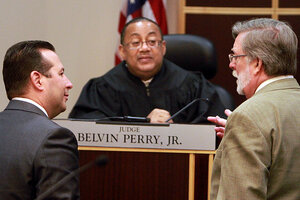 Joe Burbank/AP
A Florida judge is weighing whether Casey Anthony should serve a year of probation for a 2010 check-fraud conviction now that she has been released from jail after her acquittal last month on murder charges.
Chief Judge Belvin Perry heard arguments on Friday in Orlando over a corrected sentence issued last week by the judge who presided over the check-fraud case.
Judge Stan Strickland, acting on his own without notice to prosecutors or defense lawyers, amended the written version of his January 2010 sentencing order to include the requirement that Ms. Anthony serve one-year of supervised probation upon her release from jail.
The order was significant because Ms. Anthony is the target of multiple threats – including threats against her life. She is believed to be living outside Florida and has been maintaining a low profile since her July 17 release.
Judge Strickland's order required her to return to Orlando and register her current address in a file that would become public record.
What is unusual about the order is that according to the Probation Department, Anthony already served her full year of probation while being held in pretrial detention prior to her murder trial.
Anthony's lawyers attacked Judge Strickland's order as evidence of judicial bias. Strickland had been slated to preside over Anthony's murder trial but stepped aside after defense lawyers accused him of bias then, too.
---