D.B. Cooper skyjack: Latest lead goes cold – and the legend lives on
D.B. Cooper mystery endures: The FBI says DNA found on a tie left behind by the legendary hijacker doesn't match that of the latest suspect, who died in 1999.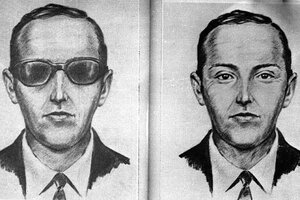 FBI/AP
The D.B. Cooper legend lives. Unfortunately for the FBI, it also means that the only unsolved hijacking in US history remains just that: unsolved.
Last week, a new name emerged to add to the literally hundreds of possible suspects that have been examined in the 40 years since a man who became known to the world as D.B. Cooper hijacked a Boeing 727 on Thanksgiving Eve 1971 and absconded, via parachute, with $200,000 in bundled 20s, never to be heard from again.
But the FBI said Monday that DNA collected from items that belonged to a man named Lynn Doyle Cooper, a logger and Korean War veteran who died in 1999, didn't match that of a partial DNA signature that the FBI pulled in 2001 from a JCPenney clip tie the man left behind on the plane.
L.D. Cooper's niece told ABC News last week that she remembers as an 8-year-old her two uncles, including L.D., planning something "mischievous" at a Thanksgiving get-together. The two disappeared, and L.D. returned later with serious injuries. Ms. Cooper recalled that her father told her in 1995 that "Uncle L.D. ... hijacked that airplane."
---