Underwear bomber trial: Will it shed light on American cleric killed in Yemen?
The trial of accused underwear bomber Umar Farouk Abdulmutallab is set to begin Tuesday. Will testimony support Obama's contention that slain cleric Anwar al-Awlaki 'directed' the failed plot?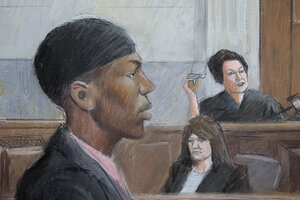 Illustration/Jerry Lemenu/AP
Accused underwear bomber Umar Farouk Abdulmutallab is set to stand trial Tuesday on charges that he attempted to destroy a Northwest Airlines flight with 281 passengers and 11 crew members onboard as part of an Al Qaeda terror plot on Christmas Day 2009.
The bomb, sewn into a pair of underwear, failed to properly detonate. Mr. Abdulmutallab was badly burned in the attempt and was subdued by passengers and crew before being turned over to federal authorities.
The high-profile terror trial in federal court in Detroit will be closely followed as part of an ongoing debate over the use of civilian courts rather than military commissions to prosecute suspected terrorists.
The bomb plot exposed significant vulnerabilities in airport security screenings and highlighted the increasing potency of Al Qaeda spin-off groups, such as Yemen-based Al Qaeda in the Arabian Peninusula.
The 24-year-old Nigerian student is representing himself with the help of an appointed stand-by counsel. The expected month-long trial will be heard by a jury of nine women and three men.
Abdulmutallab is accused in an eight-count indictment of conspiring with Al Qaeda to conduct a terrorist-martyrdom mission by using explosives to destroy a commercial jetliner and murder everyone on board. If convicted, he faces life in prison.
He has pleaded not guilty.
---