Judge rejects SEC deal with 'recidivist' Citigroup, calls fine 'pocket change'
Under the SEC deal, which allows Citigroup to avoid admitting wrongdoing in the sale of risky assets to investors, 'the public is deprived of ever knowing the truth,' a US judge says.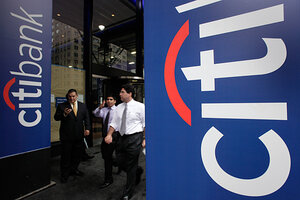 Mark Lennihan/AP
A federal judge in New York refused on Monday to endorse a $285 million consent agreement with the SEC that would have allowed Citigroup Global Markets, Inc., to avoid any admission of wrongdoing in a deceptive securities transaction that earned Citigroup $160 million in profits while investors lost $700 million.
Under terms of the proposed agreement, Citigroup was not required to admit or deny any illegal conduct alleged in a Securities and Exchange Commission complaint, and the firm would pay what the judge termed "only very modest penalties."
"If the allegations of the complaint are true, this is a very good deal for Citigroup; and, even if they are untrue, it is a mild and modest cost of doing business," US District Judge Jed Rakoff wrote in a 15-page opinion.
"It is harder to discern from the limited information before the court what the SEC is getting from this settlement other than a quick headline," he said.
"By the SEC's own account, Citigroup is a recidivist, and yet, in terms of deterrence, the $95 million civil penalty that the Consent Judgment proposes is pocket change to any entity as large as Citigroup," the judge said.
Instead of accepting the agreement between Citigroup and the SEC, Judge Rakoff told both sides to be prepared to go to trial on July 16.
---