Court backs Haley Barbour, rules governor has power to pardon at will
The Mississippi Supreme Court found Haley Barbour's pardon of 203 inmates upon leaving office in January constitutional, reaffirming a governor's unique power to override the justice system.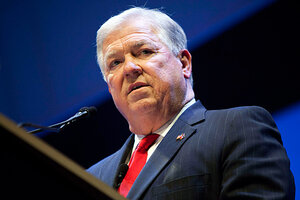 Joshua Roberts/Reuters
Arguing for four convicted murderers pardoned by Gov. Haley Barbour, attorney Tom Fortner told the Mississippi Supreme Court last month that, "I believe the governor has the right to reach his hand into prison and pull out a handful of people and pardon them."
In a 6-to-3 decision on Thursday, the court agreed, striking down claims by Attorney General Jim Hood that many of the unprecedented 203 pardons Mr. Barbour granted upon leaving office in January had not been properly announced to the public, as the Mississippi Constitution requires. The ruling reaffirmed the separation of powers between the state's three branches of government, and, in essence, prevents the judiciary from getting, as one attorney said, "inside the governor's head."
Shocking to families of victims, and a relief to dozens of inmates whose futures lay in the court's hands, the decision also reaffirmed the unique power of a governor to nullify jury verdicts and ignore judges in order to offer redemption for reformed criminals. Largely as a result of the ruling, several proposed pardon reform bills introduced in the legislature died in committee on Thursday.
---