Geraldo Rivera (again) says Trayvon Martin's 'thug wear' got him profiled
Geraldo Rivera insisted again Friday that Trayvon Martin's hoodie represented a kind of 'thug wear' that could have alarmed George Zimmerman, who shot Martin to death. The hoodie debate is not over.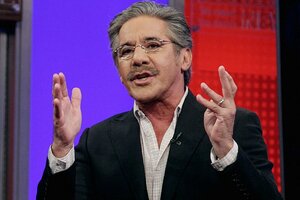 Richard Drew/AP
After troves of evidence in the Trayvon Martin shooting case was released this week, veteran talk show host Geraldo Rivera on Friday pointed at the "thug wear" the slain Florida teen was wearing to suggest urban-style garb invites suspicion.
The long-time raconteur reporter made similar comments in March, where he partly blamed "the way the young men look" – particularly wearing so-called "hoodies" – for the shooting (to the embarrassment, he said at the time, of his son).
"I'll bet you money, if he didn't have that hoodie on, that nutty neighborhood watch guy wouldn't have responded in that violent and aggressive way," he told Fox News' Bill O'Reilly at the time.
In a later interview with Trayvon's parents, Tracy Martin and Sybrina Fulton, Rivera apologized for suggesting that Trayvon's clothes played a role in his death on Feb. 26.
Trayvon Martin case: Online fund for George Zimmerman now being tapped
But amid a national debate about how young black men's fashion choices can jar public perceptions, Rivera buckled back down on the idea again this week after prosecutors released more than 200 pages of transcripts, as well as video and audio recordings, as part of the discovery process in the trial.
---