Etan Patz killing: Motive is a puzzle for police, and potentially, a jury
Pedro Hernandez has said he killed Etan Patz 33 years ago because he 'felt the urge to kill,' raising questions for behavioral scientists. He is hospitalized and reportedly under suicide watch.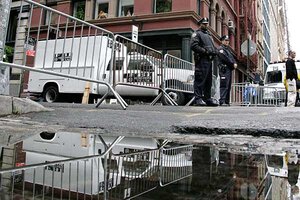 Peter Morgan/AP
Pedro Hernandez appeared "relieved" this week, police said, as he retraced for the record how he allegedly abducted and killed 6-year-old Etan Patz on May 25, 1979, an event that set into motion the missing children's movement and caused a generation of American parents to keep tighter reins on their kids.
But while the outwardly quiet New Jersey man unburdened his dark, 33-year-old secret to investigators, Mr. Hernandez has only partially answered perhaps the most important question of all: Why?
Police say Hernandez, a disabled construction worker, has not given them a definitive motive, only that as a then-18-year-old he "felt the urge to kill" after identifying Etan, who was on his way alone to the bus stop for the first time, as "the one."
Early Friday, psychologists in a secure wing of Bellevue Hospital reportedly questioned Hernandez about his mental state. Hernandez had been scheduled to be arraigned on second-degree murder charges in a New York district court on Friday, but according to ABC News, the arraignment was moved to his hospital room where is under suicide watch.
Hernandez had told investigators he used a soda to lure the towheaded 6-year-old into the basement of a bodega where he worked as a stock clerk. While there are some conflicting reports, the Associated Press quotes a source as saying that Hernandez claims to have suffocated the boy before placing the body in a box in a SoHo alleyway.
---