Trayvon Martin case's mystery man: George Zimmerman's cop connection
New evidence shows that George Zimmerman, the defendant in the Trayvon Martin murder case, counts a law enforcement officer – a federal agent – as a close adviser.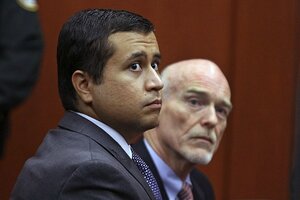 Joe Burbank/Orlando Sentinel/AP
It's been perhaps the biggest mystery of the Trayvon Martin murder case saga: George Zimmerman's cop connections.
An aspiring police officer, Mr. Zimmerman has been accused by prosecutors of play-acting as a police officer the night he pursued, shot and killed Trayvon Martin in Sanford, Fla. after pegging him as a suspicious young black man roving the neighborhood. The case turned national when police initially chose to believe the neighborhood watchman's self-defense claims, leaving a special state prosecutor to instead level murder charges 44 days later.
But questions about whether Zimmerman had actual connections with police or justice system higher-ups that may have influenced the early decision to not charge him were piqued this week with the release of new evidence in the closely-watched case, including an observation by one detective that Zimmerman's take on the shooting seemed "scripted."
RECOMMENDED: How 5 young black men see the Trayvon Martin case
Documents from the FBI and the Florida Department of Law Enforcement suggest indirectly that Zimmerman's closest adviser in the aftermath of the Trayvon Martin shooting has been a federal agent – a US air marshal and former Seminole County sheriff's deputy identified by the Miami Herald as a man named Mark Osterman.
---