Vacation danger: Is cruise ship liable for perils on shore excursions?
A federal appeals court restored a lawsuit against Carnival Cruise Lines in the case of a 15-year-old passenger killed in the crossfire of a gang shooting on the island of St. Thomas.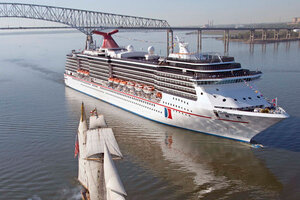 Andy Newman/Carnival Cruise Lines/Reuters
A federal appeals court on Wednesday restored a negligence lawsuit against Carnival Cruise Lines in the case of a 15-year-old passenger who was killed by cross-fire during a gang-related shootout near a popular tourist beach in the US Virgin Islands.
The girl's parents filed suit against the cruise company, claiming ship personnel should have warned the family that the area near Coki Beach on the island of St. Thomas had been the scene of violent criminal activities.
The case is potentially important because it could further define to what extent cruise ship companies – part of a $29 billion industry – may be held liable for criminal acts perpetrated on passengers exploring various ports of call.
With the increasing popularity of cruising, there are also increasing reports of cruise ship passengers on shore excursions being robbed and, sometimes, killed.
At issue in Chaparro v. Carnival Corporation was whether personnel on the Carnival cruise ship "Victory" owed a duty to advise passengers of potential dangers in certain areas of the Virgin Islands.
According to the lawsuit, a Carnival employee suggested the family take a day trip to Coki Beach after the ship docked at St. Thomas on July 12, 2010. The suit says ship personnel knew or should have known about violent gang activity and high crime rates in various parts of the Virgin Islands – including that a gang member's funeral was set for that afternoon.
The family, from San Juan, Puerto Rico, did not participate in a Carnival-endorsed shore excursion. Instead, they made their own arrangements to travel from the ship to and from Coki Beach. The shooting happened during the return trip.
The family was riding in an open-air bus and encountered a traffic jam near the site of the gang members' funeral. As the bus waited on the road, a gun-fight broke out, according to court documents.
Passengers ducked. One gang member allegedly sprayed the bus with gunfire. That's when the teen, Liz Marie Perez Chaparro, who was celebrating her quinceañera, was shot in the side.
An ambulance was called. It never arrived. Finally, the bus sped away to a hospital. The teen died in her father's arms.
---