Holmes death penalty: Decision doesn't rule out plea deal later
Holmes death penalty decision was not a surprise. 'For James Eagan Holmes, justice is death,' the district attorney said. But there are many reasons there could be a plea deal later.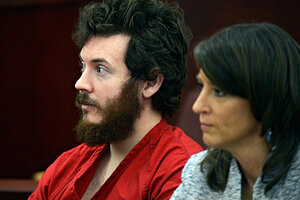 RJ Sangosti/The Denver Post/AP
Prosecutors will seek the death penalty for Aurora movie shooter James Holmes, they announced Monday.
"For James Eagan Holmes, justice is death," District Attorney George Brauchler said in court.
The decision was, in many ways, not a surprise – and doesn't remove the possibility that the two sides may reach a plea bargain down the road to avoid a lengthy trial.
That Mr. Holmes was the shooter is not really in doubt, though his defense team has repeatedly emphasized his questionable mental state in their filings, and it's all but certain that they will pursue an insanity defense. (At his arraignment last month, the judge entered a not guilty plea on his behalf after his lawyers said they weren't yet ready to enter a plea.)
The nature of the case – a bloody attack during the midnight screening of "The Dark Knight Rises," that killed 12 and wounded 58 others – made the decision to seek the death penalty likely. "But all plea bargaining possibilities are still open to the parties," says Daniel Recht, a prominent Denver criminal defense attorney.
In the case of Tucson shooter Jared Lee Loughner, for instance, prosecutors also initially said they were seeking the death penalty before ultimately accepting a guilty plea in exchange for life in prison without parole.
That's the same deal that Holmes and his attorneys offered in court filings last week in this case, but prosecutors dismissed the offer as a publicity stunt. In a written response, Mr. Brauchler said the move was improper at this stage, and "was filed for the intended purpose of generating the predictable pretrial publicity."
---