Whitey Bulger trial and the FBI: How have rules about informants changed?
James 'Whitey' Bulger is not the only one facing scrutiny as his trial begins Tuesday. So is the FBI, which infamously used Bulger as an informant for years. Today the FBI relies more heavily than ever on confidential informants, but under new rules.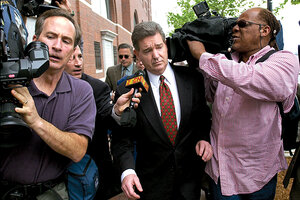 Charles Krupa/AP/File
For 15 years former FBI Special Agent John J. Connolly Jr. was the handler for a confidential informant known only as BS-1544-TE in bureau files, a secret identifier given to reputed Boston mob boss James "Whitey" Bulger.
In those years, from 1975 to 1990, the Federal Bureau of Investigation's main criminal target was the Italian mob – and Mr. Bulger, a "TE" or "top echelon" informant, was a means to that end.
So while Bulger's Winter Hill Gang allegedly continued loan-sharking, gun-running, and murdering anyone who got in their way, he and his Irish-American mob associates fed the FBI information about their competition: the Patriarca family, the New England wing of "La Cosa Nostra." In return, the FBI shielded its prize informants – Bulger and his lieutenant, hit man Stephen "The Rifleman" Flemmi – from state and local police investigations.
Informants have played a major role with the FBI since the days of J. Edgar Hoover, breaking up spy rings, organized crime empires, and, most recently, terrorist plots. Infiltrating crime groups can be done with wiretaps or agents. Yet today the FBI relies more heavily than ever on insider "snitches" or confidential informants for details of crime group structure, methods, and murders, say criminologists and former FBI agents.
But for the G-men, relying on such informants has always been a double-edged sword. While informants trade their knowledge of labyrinthine inner workings of criminal groups to the Feds for a lighter prison sentence or even payments, those same informants may turn the tables, manipulate investigations, and subtly transform good lawmen into lapdogs or even accessories to crime.
---