Whitey Bulger trial marks close of an era. But what new organized crime lurks?
Reputed mobster James 'Whitey' Bulger is among the last of his kind, as old-style crime bosses give way to criminal groups that are more fluid, more likely to span international borders, and more reliant on modern technologies.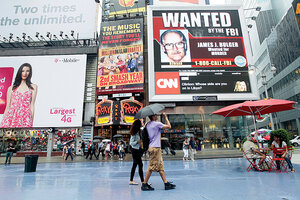 Mary Altaffer/AP/File
In the history of organized crime in America, the story of James "Whitey" Bulger already has the feel of a bygone era.
A pivotal moment in his alleged criminal career – for which he goes on trial Tuesday – sounds like a scene from a "Godfather" movie.
It was 1972, and Mr. Bulger was an ex-convict with his career, and his life, on the line. Two Irish-American crime gangs were fighting over Boston turf, and the group he belonged to was losing.
He stepped through the door of a Boston restaurant for a meeting with other gang chiefs, including some who had tried to kill him. Bulger sought a truce – and a continuing slice of local rackets.
"We had four guys with machine guns two blocks away and, we found out later, so did Whitey," Patrick Nee of the "Mullen" gang later wrote.
The two sides cut a deal that ultimately enabled Bulger to consolidate power, with alleged operations ranging from gambling to cocaine distribution to extorting "protection" money from local businesses.
Thus began a nearly quarter-century reign for Bulger as an underworld power in New England, with his South Boston base scarcely a mile from the state capitol where his brother, William "Billy" Bulger, served more than 30 years, including 16 as Senate president.
Now, with the wheel come full circle, Whitey Bulger resides in a cell in the Plymouth County Correctional Facility. Captured in California in 2011 after a 16-year manhunt, his trial begins Tuesday in a US district court on charges that include 19 murders.
The trial, and Bulger's tumultuous back story, is partly a local affair, yet it carries wider significance on several fronts. It dramatizes law enforcement's nationwide success bringing down once-powerful mob bosses even as, symbolically, it serves as a trial of the Federal Bureau of Investigation itself for lapses in its use of alleged criminals – including Bulger – as informants.
---