FISC judge orders review of secret court rulings on NSA phone surveillance
A judge on the secret Foreign Intelligence Surveillance Court set in motion a process that could give the public more information on the legal opinions behind the vast surveillance of phone records exposed by former NSA contractor Edward Snowden.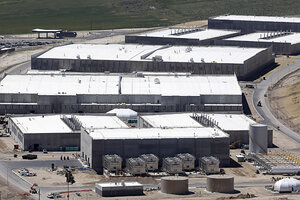 Rick Bowmer/AP/File
A judge on the Foreign Intelligence Surveillance Court has ordered the Obama administration to review for possible public release legal opinions issued by the secret court dealing with the constitutionality of the widespread collection of phone records by the National Security Agency.
Friday's ruling by one of the FISC judges, F. Dennis Saylor IV, a US district judge in Boston, is important, because it could mark a new willingness by the court to permit a level of public scrutiny of its decisions.
The special court was created in 1978 to facilitate judicial oversight of the government's use of highly classified sources and methods to track potential terrorists and head-off future attacks.
The FISA court had authorized the collection of telecommunications meta-data that formed a massive surveillance effort that was disclosed, in part, by leaks last summer from former NSA contractor Edward Snowden.
The disclosures have prompted significant public concern and debate about the extent of government collection of information about ordinary Americans as part of its anti-terrorism surveillance.
The ruling on Friday came as a result of a motion filed in June by the American Civil Liberties Union directly to the FISA court.
---