Rodney King riots won't happen again, say police
Rodney King retrospective: Twenty years later, a look back at the Rodney King beating, the riots that followed, and how far the LAPD think they have come.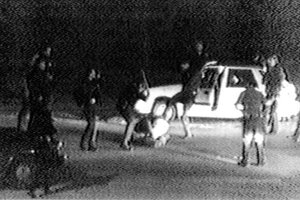 George Holliday/Courtesy of KTLA/AP/File
Twenty years after the videotaped Rodney King beating exposed racial wounds and ignited passions that eventually sparked a devastating riot, Police Chief Charlie Beck said Thursday he's confident a similar police beating couldn't happen again.
The Los Angeles Police Department has made sweeping reforms in its use of force and handling of complaints, is under more civilian oversight, and community-based policing has eased tensions in crime-plagued communities, Beck said.
In addition, the ubiquitous cell phone means officers are aware they may be taped at any time, Beck asserted.
"Inarguably, we are a much better department," he said during a routine meeting with journalists. "I have more faith in my police officers than to believe a Rodney King incident would happen today."
King, who is black, was beaten by four white police officers following a high-speed chase into the Lakeview Terrace area on March 3, 1991. A resident, George Holliday, heard sirens and videotaped the beating from his balcony. His nine-minute footage aired on local television and eventually found its way around the world.
A year later, the four officers were acquitted in a criminal trial, triggering outrage in some black communities that erupted on April 29, 1992, into days of rioting and looting that left 55 people dead and more than $1 billion in damage.
---