Michelle Obama: A first lady undercover and carving her own path
Michelle Obama: A portrait of a first lady who's transforming the job, shopping at Petco herself, and reaching out to Washington DC's black community.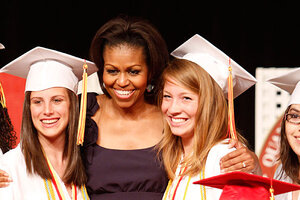 Steve Helber/AP
Newsweek/DailyBeast
The most recognizable woman in the world routinely ducks reporters to have what she calls a "normal" life. Hiding beneath a baseball cap, the first lady of the United States has picked through sale racks in the frenetic Tysons Corner, Va., mall with girlfriends, bought supplies for her dog at Petco using her own credit card, and dined at some of D.C.'s hippest eateries largely unrecognized. So secretive are her outings that when Washington Capitals hockey superstar Alex Ovechkin tweeted a photo in April with his arm around her at a busy Washington restaurant, media organizations were convinced it was a fake.
Michelle Obama laid down her markers quickly and in a way that has set Washington back on its heels. The White House was not going to imprison her, the media were not going to own her, and she would not be driven by external expectations.
---