New York gay marriage bill passes
New York has legalized gay marriage after a week of delays. Celebrations erupted and the Empire State building was lit up in rainbow pride colors.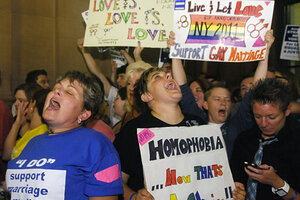 Hans Pennink/AP
Same-sex marriage is now legal in New York after Gov. Andrew Cuomo signed a bill that was narrowly passed by state lawmakers Friday, handing activists a breakthrough victory in the state where the American gay rights movement was born.
New York becomes the sixth state where gay couples can wed and the biggest by far.
Gay rights advocates are hoping the vote will galvanize the movement around the country and help it regain momentum after an almost identical bill was defeated here in 2009 and similar measures failed elsewhere in recent years.
The effects of the legislation could be felt well beyond New York: Unlike Massachusetts, which pioneeredgay marriage in 2004, New York has no residency requirement for obtaining a marriage license, meaning the state could become a magnet for gay couples across the country who want to have a wedding in Central Park or that honeymoon hot spot of yore, Niagara Falls.
New York, the third most populous state, will join Connecticut, Iowa, Massachusetts, New Hampshire, Vermont and the Washington capital district in allowing same-sex couples to wed.
---