Colin Powell accuses Cheney of taking 'cheap shots'
Colin Powell is dismissing Dick Cheney's criticism of him and others in the former vice president's new memoir.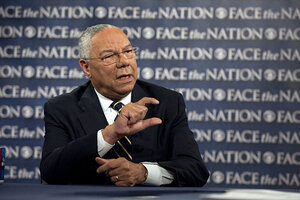 Chris Usher/CBS/AP
Former Secretary of State Colin Powell on Sunday dismissed as "cheap shots" the criticism leveled at him and others in Vice President Dick Cheney's memoir.
It was the latest volley in a clash that stretches back to their first years in the George W. Bush administration.
Powell went so far as to say that if Cheney's staff and others in Bush's White House had been as forthcoming as the State Department in the case involving CIA operative Valerie Plame, the indictment and conviction of Cheney's friend and former chief of staff never would have happened.
Powell made the remarks Sunday on CBS' "Face the Nation" ahead of the Tuesday release of Cheney's book, "In My Time: A Personal and Political Memoir." Cheney said in an earlier NBC interview that the book would cause "heads to explode" in Washington, a description Powell said he expected from a supermarket tabloid and not a former vice president.
---