Penn State scandal: Students raise funds for child abuse victims
Penn State scandal: Penn State students plan a vigil and fund-raising events ahead of Saturday's Penn State vs. Nebraska game. This is the last home game of the Penn State football season.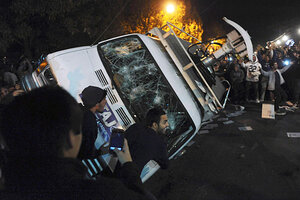 AP Photo/Michael Henninger - Post-Gazette
Penn State students are calling it a "Blue Out."
In an effort to shift the focus from Penn State head coach Joe Paterno's firing to the victims of alleged sexual abuse, Penn State students are planning several events Friday and Saturday – including wearing blue at Saturday's football game.
Normally, Penn State football fans wear white to games to create a "white out" effect in the stands. At Saturday's game, fans plan a "Blue Out," and money raised by selling blue T-shirts will go to Prevent Child Abuse Pennsylvania.
After picking up a "Stop Child Abuse Blue Out" T-shirt at McLanahan's store in State College, Penn., Penn State student Erin Grogan told the Penn State Collegian that wearing the shirt is a way to remember and support the victims in the case.
"I think this week has been on the wrong side of this," said Grogan, apparently referring to the student protests which turned violent after it was announced Wednesday night that Penn State football coach Joe Paterno had been fired.
Too much focus has been on other people besides those affected by the alleged abuse, Penn State sophomore Grogan told The Collegian.
On Friday, the mother of one of the boys allegedly abused by former Penn State assistant coach Jerry Sandusky, spoke to ABC's "Good Morning America" She was not identified beyond being the mother of "Victim No. 1" in the 23-page grand jury report that led to Sandusky being charged with 40 counts of abusing eight boys over a 15-year period.
In the interview with ABC's George Stephanopoulos, the boy's mother says she gradually became aware of the abuse her son was suffering. She said that her son would do things to intentionally misbehave to get himself grounded and avoid having to see Sandusky. She said that he asked her, at one point, how to look up information about sex offenders.
---