Obama welcomes home troops from Iraq
In his Saturday radio address, President Obama said US troops returning from Iraq offer lessons about the nation's character. In their address, Republicans said troops are most concerned about finding a good job.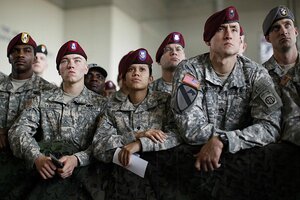 Kevin Lamarque/Reuters
President Barack Obama is welcoming home troops who served in Iraq, saying that their service offers a lesson about the nation's character.
"There's a reason our military is the most respected institution in America," Obama said Saturday in his weekly radio and Internet address. "They don't see themselves or each other as Democrats first or Republicans first. They see themselves as Americans first.
"For all our differences and disagreements, they remind us that we are all a part of something bigger, that we are one nation and one people."
Obama marked the end of the Iraq war earlier in the week, meeting with Iraqi Prime Minister Nouri al-Maliki in advance of the last American troops leaving Iraq by Dec. 31. The withdrawal caps a war in which nearly 4,500 Americans were killed, about 32,000 were wounded and hundreds of billions of dollars were spent.
"Our troops are now preparing to make their final march across the border and out of the country," Obama said. "Iraq's future will be in the hands of its own people."
---