Can Tom Brady overcome playoff missteps to beat Tim Tebow?
Tim Tebow and the Denver Broncos didn't stop Tom Brady last month. But the Patriots' quarterback has a history of recent playoff losses to overcome.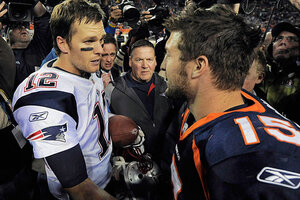 AP Photo/Jack Dempsey
Tom Brady is on his usual late-season roll. He'd just like to stop his recent playoff slide.
The New England Patriots quarterback with tunnel vision, focusing on the next practice and the next game, is on an eight-game winning streak. That may be a better sign of how his next one will go than his three-game postseason losing streak.
A win on Saturday night would send Brady and the New England Patriots to the AFC championship game and end the Tebowmania season of the Denver Broncos.
QUIZ: Are you smarter than Tom Brady or Tim Tebow? Take the QB quiz.
Preparing for the upcoming game is all Brady cares about.
"I haven't thought about anything about last year or last week," he said before practice this week. "I'm trying to think about today."
Before last week's bye, the Patriots (13-3) scored 49 straight points and beat the Buffalo Bills 49-21. During the winning streak, Brady has thrown for 19 touchdowns and just two interceptions. An acknowledged plodder, he's even run for three touchdowns in his last three games.
In the last four regular-season games over his 10 seasons as a starter, he is 34-6.
Brady's success has made an impression on Tebow.
He can learn, Tebow said, from "being able to watch a quarterback like that — how he handles himself, the emotion that he plays with but at the same time the calmness that he plays with, the accuracy, the leadership, the way he motivates his players, the way he gets in and out of great plays, the way he's able to handle any situation."
---