St. Louis awakes to hail as Midwest on alert for tornadoes Friday
St. Louis was hit by hail Friday morning. Severe storm warnings were issued for Kentucky Friday as a weather system builds,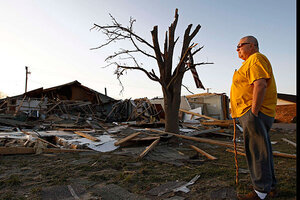 REUTERS/Jim Young
A weather system that is being watched closely Friday in parts of the South and Midwest has dumped a large amount of hail in parts of eastern Missouri.
Many St. Louis-area residents were awakened by the crackling sound of hail on the roof Friday. There were several reports of hail the size of a quarter in places ranging from Florissant in St. Louis County to Hermann, about 60 miles southwest of St. Louis.
There were no immediate reports of significant damage.
The National Weather Service says the southern Illinois city of Harrisburg, where six people were killed in a tornado this week, dodged more severe weather that had many worried new storms would hamper cleanup efforts.
RECOMMENDED: Tornado checklist - what to do, and what not to do
Forecasters had said thunderstorms early Friday were possible around Harrisburg and the rest of the region. But the night passed with little trouble in the city where a tornado hit early Wednesday.
---