State dinner for Cameron includes musicians and actors from both sides of the pond
The guest list was heavy on celebrities but also included donors to the President's re-election campaign.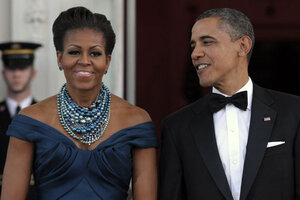 Susan Walsh/AP
Wednesday's giant state dinner for British Prime Minister David Cameron and his wife — the biggest ever thrown by Barack and Michelle Obama — dished up a potent mix of celebrity glam, corporate heft and political money under a giant party tent on the South Lawn. It is an election year, after all.
The entertainment lineup also included a little something special for both couples: The Obamas are big admirers of Grammy-winner John Legend, and David and Samantha Cameron are huge fans of Mumford & Sons, a British folk rock band also performing.
Obama, for his part, also is a big fan of "Homeland" actor Damian Lewis, who said on his way in that he planned to ask the president how he ever finds time to watch TV.
Among the 360 people who scored golden tickets to the dinner were actor George Clooney, billionaire Warren Buffett, Supreme Court Justice Antonin Scalia, businessman Richard Branson, Apple's Jony Ive and movie mogul Harvey Weinstein, a big fundraiser for Obama's re-election campaign.
---