NCAA tournament offers a B-ball boost for US-British 'special relationship'
President Obama and Prime Minister Cameron will take their global concerns and 'special relationship' to what should be good seats at the first NCAA tournament game in Ohio.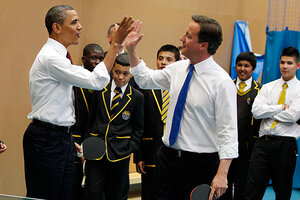 Larry Downing/Reuters
It's hardly a unique scenario: Two buddies are facing some especially tough and taxing issues at work, so to let off steam and put things in perspective, one invites the other to take in a little college B-ball.
Except that in this particular case, it's President Obama inviting British Prime Minister David Cameron to a first-round game in the NCAA basketball tournament.
And the issues the two leaders will be taking a short respite from range from Iran and Syria to the deteriorating situation that US and NATO forces face in Afghanistan.
With an agenda like that, who wouldn't opt for a little March Madness?
Mr. Cameron and his wife Samantha arrive in Washington Tuesday for a two-day official visit ("state visits" are reserved for heads of state, like Queen Elizabeth) during which the two leaders will discuss issues as prickly as Iran's nuclear program and the impact Sunday's massacre of Afghan villagers by an American soldier will have on the West's strategy for ending an 11-year-old war.
---