Obama in London: Ping-pong diplomacy and pomp bolster 'special relationship'
President Obama, on a three-day state visit to London, is stressing what he and Prime Minister Cameron call an 'essential relationship' between the UK and the US.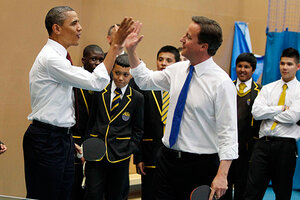 Larry Downing/Reuters
The focus as President Obama starts his three-day state visit to Britain today is strengthening what's long been termed the "special relationship."
To many in Britain, the relationship is no longer as special as they might hope. As the historian Niall Ferguson said this morning in an interview on BBC Radio 4, "The British think they're in a special relationship, but the Americans have quite a few special relationships and I don't think that we're the most special."
The need to stress the close bonds between the US and the UK is partly an admission of the trickier relationships the US has with the rest of Europe right now and partly a nod to British support in Afghanistan.
But the relationship is hardly in danger, according to Alexis Crow of the London think tank Chatham House. "Ireland, the UK, and Poland are steadfast allies for the US so this is a step into shallow water for him," she says. "There's so much publicity here and back in the US and if you're looking ahead to 2012, this kind of coverage plays well to the east coast voters and well-educated voters. But at the same time he has made it clear his No. 1 priority is the economy."
---
Follow Stories Like This
Get the Monitor stories you care about delivered to your inbox.