Bison reach Montana as part of relocation plan
The American Bison (also known as buffalo) were taken from Yellowstone as part of an effort to repopulate the West with the iconic animals.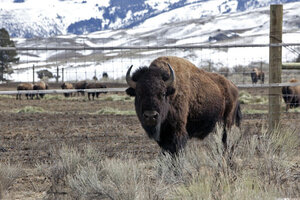 Janie Osborne/AP/File
Sixty-four bison from Yellowstone National Park were shipped almost 500 miles to northeast Montana's Fort Peck Reservation on Monday, under a long-stalled relocation initiative meant to repopulate parts of the West with the iconic animals.
The transfer — anticipated for months — came in the middle of a snowstorm and with no prior public announcement, as state and tribal officials sought to avoid a courtroom battle with opponents worried about bison competing with cattle for grazing space.
Montana Gov. Brian Schweitzer described the move as a major step in efforts to restore Yellowstone's genetically-pure bison across a larger landscape.
"This is where we're going to establish the beachhead of genetically pure bison that will be available as their numbers grow to go to other reservations and other public lands all across the West," Schweitzer said.
Tribal and state officials signed an agreement Friday allowing the transfer to take place, said Robert Magnan with the Fort Peck Fish and Game Department.
Caught off guard were landowners and property rights groups that opposed the relocation. They filed a request for a temporary restraining order Monday afternoon to halt the move.
Helena attorney Cory Swanson said moving the animals without public notice following years of controversy amounted to a "sneak attack."
---