Disappointed New York marathoners run in aid of Sandy victims
Hundreds of those gathered for the New York City marathon will run through the city Sunday carrying pet food, batteries, water, and other supplies for those hit by Hurricane Sandy.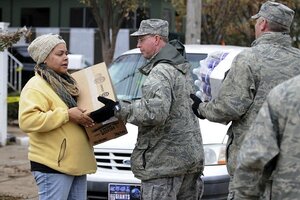 Jeremy M. Call/New York Air National Guard/REUTERS
Hundreds of runners in New York City are refusing to let a canceled marathon spoil their Sunday plans and are channeling months of preparation into informal runs intended to benefit victims of superstorm Sandy.
Amid criticism from victims of Monday's storm that the race would divert resources away from efforts to help flood-ravaged parts of the city, Mayor Michael Bloomberg on Friday abruptly canceled Sunday's marathon. The event was expected to draw more than 40,000 runners to the city – including Kelly Rooney, a 31-year-old stay-at-home mother from Florida.
Rooney was at first irked that Bloomberg called off the marathon after insisting earlier in the week that it would go ahead in spite of Sandy, whose 80 mile-per-hour winds and record surge of seawater devastated coastal communities and claimed at least 110 lives in the US.
Rooney traveled with her husband and 6-year-old daughter in tow, while her parents flew in from Mexico to cheer her on.
By Saturday afternoon Rooney was over her disappointment and looking forward to a charity run on hard-hit Staten Island that she had found advertised on the Internet.
On Sunday, Rooney will be running with a backpack full of dog food, cat food, batteries, and some water donated by her hotel, the Ritz-Carlton across from Central Park.
"I truthfully at this point don't care if I run, I just want to give this stuff out," she said.
IN PICTURES: Sandy: Chronicle of an unrelenting storm
The idea for the Staten Island run came to 46-year-old Jordan Metzl, a doctor of sports medicine, and his running friends just as the debate was heating up last week about whether storm-battered New York City should hold a marathon.
---