Fla. GOP tries to defeat Crist before he can run
Many speculate that former Fla. Gov. Charlie Crist, a Republican turned independent who supported President Obama, may run against Gov. Rick Scott as a Democrat in 2014. Florida Republicans are trying hard to discredit Crist.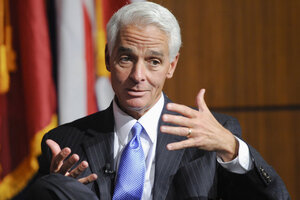 Gus Ruelas/Reuters
Ever see a couple go through a nasty divorce, and then one side gets angry and starts bringing up old history as the other tries to move on in life with someone else?
Well, that's sort of what the Republican Party of Florida is going through with former Gov. Charlie Crist, who ended his relationship with his long-time party while running for Senate in 2010. Now that Crist, an independent, is getting cozy with Democrats, the state GOP is shouting to anyone who will listen that Democrats would make a big mistake to be spouse No. 2.
When Crist says something nice about President Barack Obama, the state GOP immediately shoots out a press release with something not so nice Crist said about Obama when he was a Republican. If Crist endorses a Democratic candidate, the party reminds people Crist used to say he was a Ronald Reagan Republican. There's strong speculation that Crist, 56, will challenge Gov. Rick Scott as a Democrat in 2014. He has dismissed talk of a potential return to politics, saying he won't even think about his future until after Jan. 1.
"I just think Charlie Crist is bad for the state of Florida," said state GOP Chairman Lenny Curry. "He's someone who's trying to recreate himself. These are serious times. At any level, we don't want to see Charlie Crist back in office, particularly in a position of leadership. It wouldn't be good for Florida, regardless of your ideology."
---