Saints 'Bountygate' player suspensions overturned by Tagliabue
In reversing the penalties handed out before the season, former NFL commissioner Paul Tagliabue said the Saints players and coaches acted to the detriment of the league.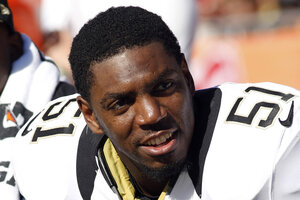 Scott Iskowitz/AP/File
Former NFL Commissioner Paul Tagliabue overturned the suspensions of four current and former New Orleans Saints players in the league's bounty investigation of the club.
Tagliabue, however, found that three of the players engaged in conduct detrimental to the league. He said they participated in a performance pool that rewarded key plays — including hard tackles — that could merit fines. But he stressed that the team's coaches were very much involved.
"Unlike Saints' broad organizational misconduct, player appeals involve sharply focused issues of alleged individual player misconduct in several different aspects," said a portion of ruling released by the NFL. "My affirmation of Commissioner Goodell's findings could certainly justify the issuance of fines. However, this entire case has been contaminated by the coaches and others in the Saints' organization."
Tagliabue was appointed by his successor, Commissioner Roger Goodell, to handle a second round of player appeals to the league in connection with the Saints' cash-for-hits program run by former defensive coordinator Gregg Williams from 2009-2011. The players initially opposed his appointment.
Saints linebacker Jonathan Vilma had been given a full-season suspension, while defensive end Will Smith, Cleveland linebacker Scott Fujita and free agent defensive lineman Anthony Hargrove each received shorter suspensions.
---