Though likely to be confirmed, McCain questions Hagel's qualifications
Chuck Hagel is expected to be confirmed as secretary of defense by the Democratic-controled Senate. On Sunday, Republican Senator John McCain said he did not believe Hagel is qualified for the job, despite their personal friendship.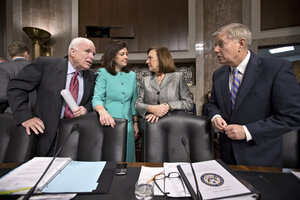 J. Scott Applewhite/AP/File
Republican Senator John McCain on Sunday said his former colleague Chuck Hagel was not qualified to be US defense secretary but the Senate would likely vote on his nomination rather than hold it up with procedural hurdles.
Before going on a weeklong recess, Republican lawmakers succeeded in delaying a Senate vote on Hagel's nomination earlier this month. Hagel is expected to win confirmation if a vote is held because Democrats control 55 votes in the 100-seat Senate.
"I do not believe that Chuck Hagel, who is a friend of mine, is qualified to be secretary of defense," McCain of Arizona said on CNN's "State of the Union" show.
---