Stop-and-frisk trial: What's next for the controversial tactic?
The stop-and-frisk tactic under fire in New York City has already survived a constitutionality challenge, but could face reform from the current class action suit charging that stop-and-frisk is disproportionately used against minorities.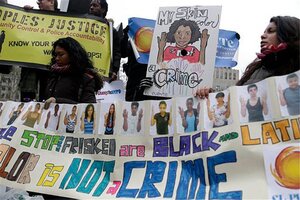 Seth Wenig / AP
Many of the tens of thousands of New Yorkers stopped, questioned and sometimes frisked by police in the past decade were wrongly targeted because of their race, lawyers for four men who claim they were illegally stopped said Monday.
But New York Police Department lawyers countered that officers must go where the crime is — and the crime is overwhelmingly in minority neighborhoods.
A civil trial that began Monday in federal court in Manhattan will examine the police tactic that has become a city flashpoint, with mass demonstrations, City Council hearings and mayoral candidates calling for change. The lawsuit, now a class-action, seeks a court-appointed monitor to oversee changes to how the police make stops.
The courtroom and overflow rooms were packed Monday, and stop-and-frisk opponents held an afternoon rally outside the courthouse. The Rev. Jesse Jackson watched the opening statements, telling reporters outside court afterward: "I heard rationalization and justification rather than explanation from the city. They were not denying. They were justifying."
The trial is expected to last more than a month.
The mayor and police commissioner say stop-and-frisk is a life-saving, crime-stopping tool that has helped drive crime down to record lows.
But Darius Charney, the lawyer for the four men who filed the suit in 2008, said the department is doing stops illegally and must make adjustments. He called many of the stops a "frightening and degrading experience" for "thousands if not millions" of New Yorkers.
Charney, of the Center for Constitutional Rights, called the stops "arbitrary, unnecessary and unconstitutional," and promised that plaintiffs will show the judge "powerful testimonial and statistical evidence" that New Yorkers are routinely stopped without suspicion.
---