Six years in Iraq: three American stories
A soldier, a reconstruction expert, and a peace activist tell of how Iraq has changed – and what more needs to be done.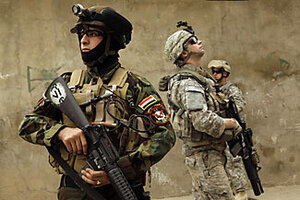 Maya Alleruzzo/AP
For Staff Sgt. Todd Bowers, America's six years in Iraq have been an accomplishment and a tragedy best summed up in the life of a single man – an Iraqi he knew only as Moufid.
It was 2005, and the insurgent stronghold of Fallujah was at war, buildings blasted to rubble and rockets splitting the sky.
Amid the chaos, "this Iraqi walks up to us and says, 'How can I help?' " says Sergeant Bowers, who has served two tours in Iraq.
It was a breakthrough moment for Bowers's unit. "He really represented the kind of relationship you need to establish at the local level to begin to turn the tide," says Bowers.
Six years after America invaded Iraq, Bowers's experience symbolizes what America has learned – and what Iraq has sacrificed. Progress in Iraq has come one relationship at a time – a lesson that could change how the American military fights in Afghanistan and beyond.
But Moufid was killed in front of his family later that year for cooperating with Americans, Bowers learned – a glimpse of the war's cost to the Iraqi people.
Much of the wanton violence that claimed Moufid as well as thousands of other Iraqi civilians is now waning. US combat deaths, too, are now consistently lower than at any time since the invasion began in 2003.
---
Follow Stories Like This
Get the Monitor stories you care about delivered to your inbox.