Mullen to marines: You have two years to turn tide in Afghanistan
Adm. Mike Mullen, chairman of the Joint Chiefs of Staff, gave a pep talk to marines at Camp Lejeune Monday, as the Pentagon announced that the first troops of the Afghanistan surge will deploy by the end of the year.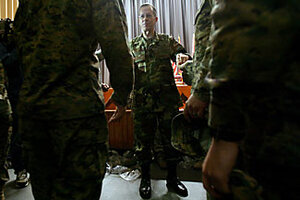 Logan Wallace/AP
Adm. Mike Mullen, the nation's top military officer, told marines Monday that they have at most two years to turn around the faltering mission in Afghanistana pep talk aimed at preparing them for the coming surge.
The Pentagon announced Monday that the first of the 30,000 troops to deploy under President Obama's new strategy for Afghanistan will leave in the next few weeks, and though US forces will begin to come back after 18 months, a significant number of troops will remain beyond that date, administration officials have said. Mullen, the chairman of the Joint Chiefs of Staff, visited the Marine post of Camp Lejeune Monday as it readied for a series of deployments to Afghanistan.
Mullen's message was part rallying cry, part primer for the kind of war Gen. Stanley McChrystal, the US commander in Afghanistan, expects to fight.
Why they are going
---